Tag Archives:
wonder twins
In this one Ben and Dave sit down and discuss some of the latest DC and Marvel news. John couldn't be there because he was too busy following Taylor Swift on tour. Some obsessions are better left un-examined. So activate your wonder twin powers and enjoy!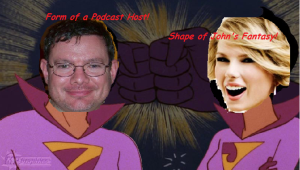 As usual please leave your feedback on our facebook page:
https://www.facebook.com/Superherospeak
And don't forget to check out our site here:
Podcast: Play in new window | Download (Duration: 1:06:37 — 18.2MB)
It's a Two True Freaks Special Presentation! The full-length made-for-tv movie that started it all — Star Trek: The Next Generation – "Encounter At Farpoint"!!

Listen to The Freaks boldly embark on yet another MASSIVE UNDERTAKING – the show-by-show, chronological coverage of the full run of Star Trek: The Next Generation!

Two True Freaks! is a proud member of BOTH The Comics Podcast Network and The League of Comic Book Podcasts
NOTE — The Two True Freaks! now have a phone line where you can call and leave a completely inappropriate message – We just might use it on the show! It's 585-COP-LURE!! ( 1-585-267-5873 )
Also be sure to visit our forum at TheComicsForum – Two True Freaks Forum where you can tell us just exactly how SICK & WRONG you think we are!
E-mail us at twotruefreaks@gmail.com
And visit our MySpace Account
Come to our YouTube site and see some of our favorite movies!
Follow Scott on Twitter!
Two True Freaks is a production of Dufaux DiManzo – 2009 DiManzicorp-Shortsleeve Ltd.
Podcast: Play in new window | Download (80.3MB)