This week the Dave and John sit down with one of the best creative teams to ever work in comics, Tom Defalco and Ron Frenz! They talk about some of the highlights and best moments of their careers. They tell us all about Spider-Man, Thor and  of course Spider-Girl. Ron shares with us about how he came up with the design of Superman Blue and Tom shares with us the tale of how the Clone Saga came to be. Don't groan at that last part, because without the Clone Saga the idea of Mayday Parker, Spider-Girl, would have never been born. Plus Tom gives us a new way of looking at Thor we never thought of before. So sit back, relax and enjoy one of the best conversations ever with 2 comic book giants!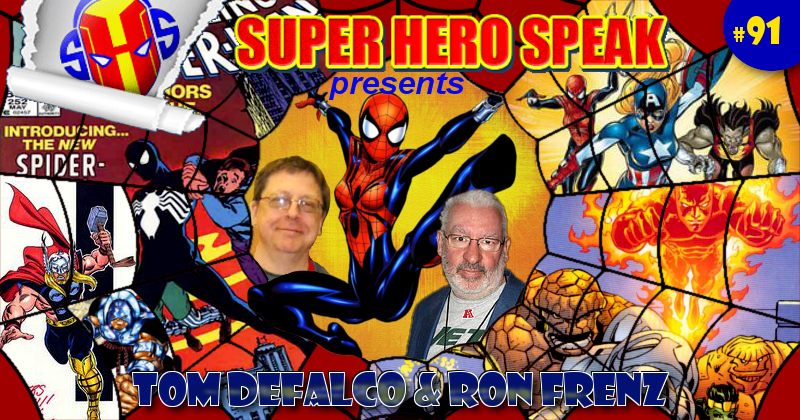 #stumpthegeekspeak question of last week: In the mid-70s Marvel had a strange rule about wolverine involving hair. What was it?
Answer: He couldn't have arm hair while in costume.
And the winner is Dave the Nerd! Congrats Dave you are the Geek of the Week! Follow Dave on Twitter here: https://twitter.com/DaveTheNerd_DNC
#stumpthegeekspeak question of the week: How many clone trooper suites of armor were actually produced for the Star Wars prequels?
To answer post on our FB page or tweet @SuperHeroSpeak #stumpthegeekspeak. A winner will be announced on the next episode.
Don't forget to sign up for our mailing list. Never miss a Super Hero speak update/episode again!
Follow us on Twitter: https://twitter.com/SuperHeroSpeak
Like us and leave feed back on Facebook: https://www.facebook.com/Superherospeak
Click here to check out Fathead.com and support the show!
Podcast: Play in new window | Download (Duration: 1:30:26 — 45.1MB)