This week Ben, Dave and John all sit down with the creative team behind Face Value Comics. That's right Angela and Dave Kot return with artist Sky. The team tell us about their all new issue 2 that was just released. Along with their really big news, they are now being distributed through Diamond Distribution! So look for Face Value Comics to be in your local comic shop soon! In the mean time sit back and enjoy the interview.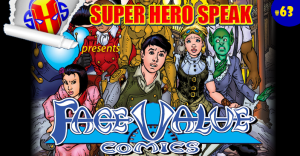 You can find Face Value Comics on the web here: http://facevaluecomics.com/
and on Facebook here: https://www.facebook.com/FaceValueComics
or follow them on Twitter here: https://twitter.com/FaceValueComics
#stumpthegeekspeak question of last week: In 1985 a Spider-Man movie was in production at Canon films. Who was slated to play Spider-Man?
Answer: Scott Leva
And the winner is Briana Clemmie Lucille Bailey! Our first female and our first winner from Facebook. Congrats you are the geek of the week!
#stumpthegeekspeak question of the week: Who is the second oldest mutant in the marvel universe? To answer post on our FB page or tweet @SuperHeroSpeak #stumpthegeekspeak. A winner will be announced on the next episode.
Please support the show by shopping at our Amazon store! Get all the great products you normally get from Amazon and support our podcast at the same time. Win, win: http://astore.amazon.com/supe03b-20
Follow us on Twitter: https://twitter.com/SuperHeroSpeak
Like us and leave feed back on Facebook: https://www.facebook.com/Superherospeak
Podcast: Play in new window | Download (Duration: 1:10:58 — 19.6MB)