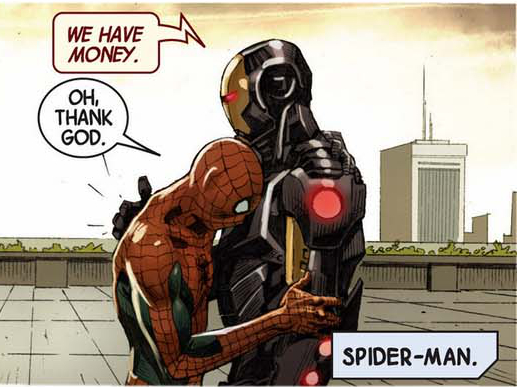 Double the pleasure, double the fun! Not only do you get two episodes in a matter of days, but this episode itself is two episodes in one! First, Kris and Ian talk all about the Spider-Man movie franchise news, including his appearance in the Marvel Movie Universe, plus Kevin Feige's involvement in future Sony Spider-Man movies. We also discuss the Miles Morales vs. Peter Parker movie debate, the Fantastic Four trailer and how it will more than likely not be for us, Michael Fassbender potentially playing Boba Fett, Ian finally watching Blade for the first time, Peggy Carter: Agent of S.H.I.E.L.D. (both Kris' praise, and Brent's dislike from a pre-show conversation), The Walking Dead (SPOILERS) and more!
We then segue into the rest of our Best and Worst of 2014, questions 8-15, featuring Ian, Brent, Brandon, Chad and Yanni. Expect things to be just as grumpy, exhausted and insane as they were in Part 1. It's a mess, but in a good way. Enjoy!
As always – we are sponsored by the newly redesigned DCBS! That's right! Discount Comic Book Service! All comics from major publishers like Marvel, DC, Image and Dark Horse are 40% off or more. And hardcovers and trade paperbacks from Marvel and DC are at least 50% off! Plus, be sure to check out their Comixology digital storefront for even further savings!
You can e-mail the show at comictiming@gmail.com and be sure to Like us on Facebook at http://www.facebook.com/ComicTiming. Thanks, and we'll catch you next time!
Podcast: Play in new window | Download (Duration: 2:03:42 — 68.4MB)