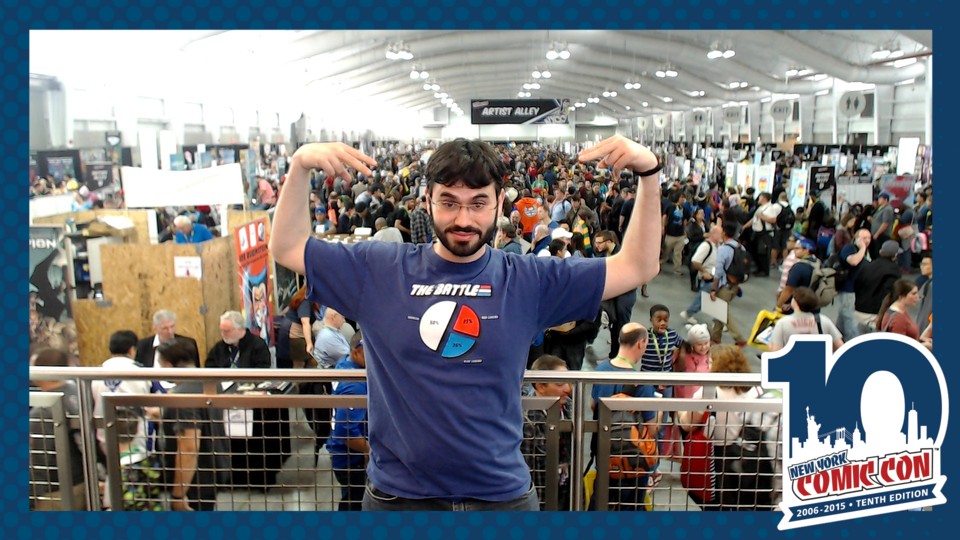 Episode 174 of Comic Timing is now available for your earholes! As has become an unofficial tradition, our thoughts on New York Comic Con arrive about a month after the show has concluded. So, here's all that went down at NYCC 2015! Ian is joined by Austin and Kris as they go through the best and worst of the show, awesome cosplay, LexCorp WiFi, waiting on a line to wait on a line to get con exclusives, how to budget your time appropriately in a sea of people, the introduction of Hammerstein Ballroom events to the show, swag and art obtained, and a whole lot more.
And more includes reports on panels attended, including Comic Creators Consuming Coffee: Where Food & Comics Collide, Action Lab: Five Years and BEYOND!, #BlackComicsMonth: Diversity in Comics, Adventure Time, and the Ash Vs. The Evil Dead premiere. Hope there's enough to make you feel like you were there too!
As always – we are sponsored by the newly redesigned DCBS! That's right! Discount Comic Book Service! All comics from major publishers like Marvel, DC, Image and Dark Horse are 40% off or more. And hardcovers and trade paperbacks from Marvel and DC are at least 50% off! Plus, be sure to check out their Comixology digital storefront for even further savings! And be sure to check out Kris' Tumblr at Garak's Clothiers for some excellent cosplay shots and geek fashion.
You can e-mail the show at comictiming@gmail.com and be sure to Like us on Facebook at http://www.facebook.com/ComicTiming. Thanks, and we'll catch you next time!
Podcast: Play in new window | Download (Duration: 1:57:42 — 69.3MB)