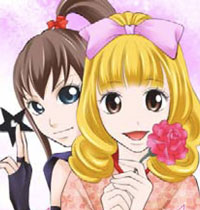 While the American comics publishers, and publishers in general, are making more and more content available digitally, the situation is quite different here in Japan. The traditional manga publishers — Shueisha, Kodansha, and Shogakukan — have been very slow to embrace the digital market.
This week we meet Masanori Kinomiya, Representative Director and President of DML. DML offers services to convert print comics to digital formats, and has created the G2 Comix line of original manga titles. G2 is doing well in Japan (where 80% of ebooks are comics!), and around the world in a variety of languages. So why are the Big Three (and Japanese publishers in general) still putting out little or no electronic content? Kinomiya-san explains to Tim.
Read DML's company profile PDF, including statistics on ebook readership in Japan and a look at some G2 Comix titles.
See photos below the jump.
Follow Tim on Twitter | Facebook group
Podcast: Play in new window | Download (Duration: 58:55 — 67.5MB)