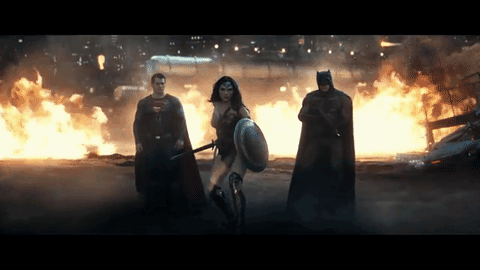 STAY DOWN. Our Batman V Superman: Dawn of Justice episode has arrived! And boy oh boy is it a whopper. Brandon Christopher, Raphael Soohoo, Brent and Ian have put together just about three hours of content for you all to enjoy, both live from Philadelphia right after Ian and Brandon saw the movie, and back in the studio a few days later via Skype. Brent presents a thesis on why the current movie Superman is so divisive among the geek community, we talk as a group on whether or not Batman should wield guns, how awesome Wonder Woman is and how she's the best part of the movie, Lex Luthor's manic tendencies, the whole Doomsday thing, earning the respect of the world, Alfred's usefulness, Lois' usefulness, Zack Snyder's usefulness, and a whole lot more.
Fair warning: if you're looking for a 100% glowing review, I suggest you look elsewhere. Like Raging Bullets, because they're awesome. But if you're looking for a critical eye that doesn't dip into yelling at each other, stick around Comic Timing. You've come to the right place.
As always – we are sponsored by the newly redesigned DCBS! That's right! Discount Comic Book Service! All comics from major publishers like Marvel, DC, Image and Dark Horse are 40% off or more. And hardcovers and trade paperbacks from Marvel and DC are at least 50% off! Plus, be sure to check out their Comixology digital storefront for even further savings!
Stay tuned in the upcoming weeks for information on our Patreon, which should be launching real soon. If you want to support Comic Timing and help keep it going for years to come, that's one of the many ways you can do so. You can e-mail the show at comictiming@gmail.com and be sure to Like us on Facebook at http://www.facebook.com/ComicTiming. You can follow Ian on Twitter @i_am_scifi, or on Tumblr at heehaw-ds9.tumblr.com; Brent is on Twitter too @kossinab. And check out Raph's blog about life and various other things, Volume 32. Plus, Brandon's got a new podcast! Check out The Pop Culture Clash Podcast with him and Baron.
Thanks for listening, and we'll catch you next time!
Podcast: Play in new window | Download (Duration: 2:57:33 — 101.6MB)