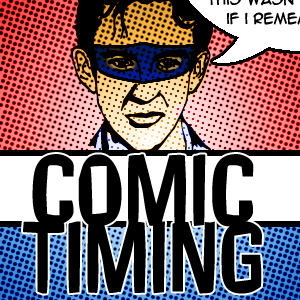 Hey, look! It's a full episode of Comic Timing! This time, Brent and Ian are joined by Gabe Perez, who now wanders around the podcasting world aimlessly after Strangers With Comics stopped coming out. In this episode, you'll hear a bunch of conversation about the recent tumultuous changes DC Comics has been dealing with, including entire creative teams leaving books before they are even out. Plus, listen to our take on where Comixology might go next; will Comixology's troubles with downtime lead to a shift in how companies release their digital books? Since this episode was recorded, Marvel reissued their Free 700 Issues offer, but the debate remains valid, as nobody could buy ANY digital books for nearly four full days while their server issues were being resolved.
We also do a little general conversation as usual, including Superior Spider-Man and Avenging Spider-Man, Ian's Brooklyn Public Library woes, the second to last episode of The Walking Dead Season 3, and a bit on The Walking Dead comics now that Ian is 70 or so issues in. Oh, and Gabe's pipes are now clean. I left that part in because it's GOLD!
As always – we are sponsored by DCBS! That's right! Discount Comic Book Service! For those of you who have not used DCBS before you can save an additional 8% off your first order via the promo code: CT8. Plus, be sure to check out DCBS' new Comixology digital store! And be sure to check out this year's Super Show, which is taking place April 6-7th at the Greater Reading Expo Center.
You can e-mail the show at comictiming@gmail.com and be sure to Like us on Facebook at http://www.facebook.com/ComicTiming. Thanks for listening and we'll catch you next time!
Podcast: Play in new window | Download (Duration: 1:36:09 — 52.4MB)