It's Super Hero Speak's first international episode! This week Dave sits down with Stuart Jennett and Darren Pearce from the U.K. and they talk all about their new book Elena: Divinity Rising. Also Dave learns about how comics differ in the United Kingdom from the U.S. Darren is a new comer to the comics scene, where Stuart is a long time vet having worked for Marvel U.K. and had much success with his series Chronos Commandos. So take a look into Elena: Divinity rising with us and enjoy!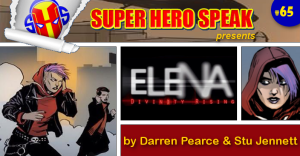 Follow Elena Anchova on Twitter: https://twitter.com/ElenaAnchova
Follow Stuart Jennett on Twitter: https://twitter.com/Stu_Jennett
Stuart's website: http://stuartjennett.com/
#stumpthegeekspeak question of last week: Which DC hero, introduced in 1961, got his powers when he accidentally drank bottle of super plastic formula, he thought was soda?
Answer: Bouncing Boy
And the winner is Mark Howden! Congrats you are the geek of the week! Follow Mark on twitter here: https://twitter.com/GreaserCanada
#stumpthegeekspeak question of the week: In the before Watchmen books it was revealed the 2 of the Minutemen had a sexual relationship. Which 2 was it?
To answer post on our FB page or tweet @SuperHeroSpeak #stumpthegeekspeak. A winner will be announced on the next episode.
Looking to decorate your child's room, home office or man cave? Check out fatheads and support this podcast! 
Follow us on Twitter: https://twitter.com/SuperHeroSpeak
Like us and leave feed back on Facebook: https://www.facebook.com/Superherospeak
Podcast: Play in new window | Download (Duration: 56:47 — 16.2MB)