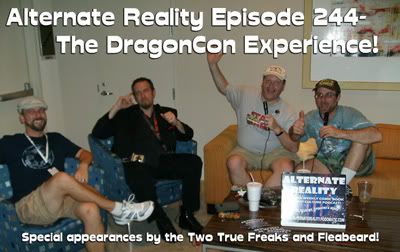 Alternate Reality – Episode #244
The DragonCon 2009 Experience!
DragonCon has come and gone and now Eric and special guest Todd (aka Fleabeard) talk about their experiences at the con and hanging out with Scott Gardner and Chris Honeywell- the hosts of the Two True Freaks podcast.
After the discussion we present a recording made during the heat of DragonCon itself as the boys pull up a couch in the Marriott Atlanta and interact with con-goers. Much drunken fun is had by all!
Enjoy
Time Stamps h:mm:ss
0:00:00 – Cold Open
0:00:16 – Intro Music- 'Marriott Cock Squat' by Le Sexoflex
0:01:50 – Eric & Todd's after-thoughts on the con itself
0:59:23 – DragonCon LIVE with Eric, Todd, Scott & Chris
2:06:27 – Exit Music featuring the song 'FYSU' by Attractive Eighties Women
Contact us at: alternaterealitypodcast@gmail.com
Follow us on Twitter:
Jon: http://twitter.com/jonloveless
Charlie: http://twitter.com/Xonslaught
Eric: http://twitter.com/greencapt

Check out our podcast page for current episodes.

Check out our blog for the latest in comic book news and opinions.

Stop by the forums and chat with us about comics, or whatever.
Archived episodes of Alternate Reality can be found at: http://alternaterealityarchive.blogspot.com/
Purchase your Alternate Reality Gear at: http://www.cafepress.com/ARpodcast
Alternate Reality is a proud member of the Comics Podcast Network
Podcast: Play in new window | Download (Duration: 2:08:08 — 88.1MB)