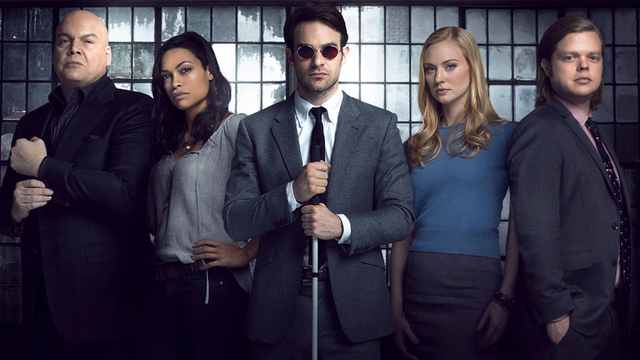 There's a whole lot to cover this episode! Ian and Brent are joined by long-time friends of the show, Donovan Morgan Grant of the The Comic Book Film Revue Podcast, and Chris Johnson, talk Netflix's Daredevil series, with SPOILERS abound. We talk about the plot, characters, setting, and even his horns. From there, conversation meanders to Gerry Conway's issues with DC Comics and creator rights in general, followed by some talk about the first few weeks of DC's Convergence. Oh, and a little bit of Megacon and MoCCA Fest reactions. Plenty of talk to go around, and even a DeFalco bomb or two for old time's sake.
As always – we are sponsored by the newly redesigned DCBS! That's right! Discount Comic Book Service! All comics from major publishers like Marvel, DC, Image and Dark Horse are 40% off or more. And hardcovers and trade paperbacks from Marvel and DC are at least 50% off! Plus, be sure to check out their Comixology digital storefront for even further savings!
You can e-mail the show at comictiming@gmail.com and be sure to Like us on Facebook at http://www.facebook.com/ComicTiming. Thanks, and we'll catch you next time!
Podcast: Play in new window | Download (Duration: 2:29:07 — 86.3MB)