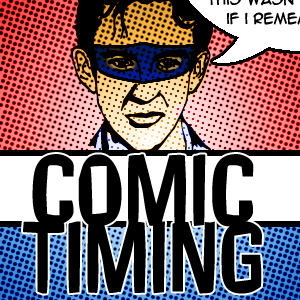 Ian, Brent, Jim Dietz, Darrell Taylor, and some Brandon discuss all things 2015 comic book TV! We talk Flash, Supergirl, Gotham, Arrow, Agents of S.H.I.E.L.D. and more! We tell you what we are thinking of the current seasons of these shows as well as where we think they are going or should go. SPOILER WARNING if you are not up to date, but even if you aren't, it's okay because we recorded this prior to Thanksgiving. So more like SPOILER WARNING for up to two weeks ago!
As always – we are sponsored by the newly redesigned DCBS! That's right! Discount Comic Book Service! All comics from major publishers like Marvel, DC, Image and Dark Horse are 40% off or more. And hardcovers and trade paperbacks from Marvel and DC are at least 50% off! Plus, be sure to check out their Comixology digital storefront for even further savings! And be sure to check out Kris' Tumblr at Garak's Clothiers for some excellent cosplay shots and geek fashion.
You can e-mail the show at comictiming@gmail.com and be sure to Like us on Facebook at http://www.facebook.com/ComicTiming. Thanks, and we'll catch you next time!
Podcast: Play in new window | Download (Duration: 2:21:25 — 129.6MB)