So the guys were invited to the inaugural Great Philadelphia Comic Con to cover the event. Ben and Dave went to check out to see what it was about. They were definitely pleasantly surprised at the attendance and how well the show was put together. And they definitely see this growing into something big. Of course while they were there they took the time to talk to some people and those recordings are in this weeks episode to share with you. If you missed the show, then make sure you check it out next year, but for now here is our coverage of The Great Philadelphia Comic Con, Enjoy!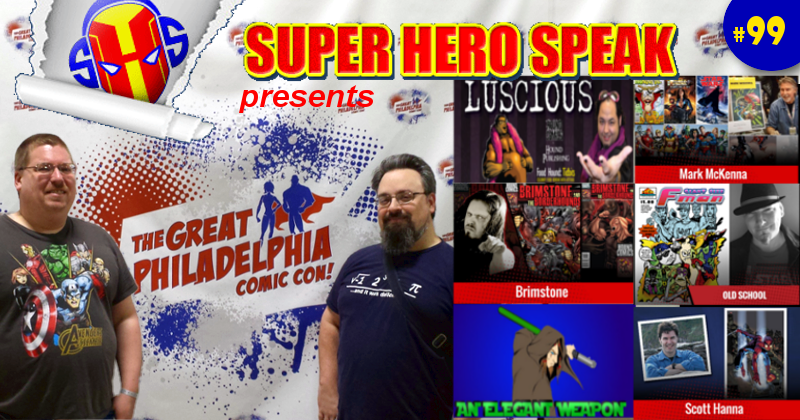 #stumpthegeekspeak question of last week: When did the Marvel 616 and Ultimate Universes first cross over, and which characters were involved?
Answer: Spider-Men mini series 2012. Peter Parker, Mile Morales, Mysterio
And the Winner is: Stevo Marvel Smart. Congrats you are the honorary beard of knowledge!
#stumpthegeekspeak question of the week: Where and when was the first comic book convention held?
The Great Philadelphia Comic Con website: http://www.philadelphiacomiccon.com/
Check out An Elegant Weapon here: http://anelegantweapon.ca/
Coat of Arms website: http://www.coatofarmscomics.com/
Here is Luscious's website: http://www.therealluscious.com/
Scott Hanna's art: http://www.theartistschoice.com/hanna.htm 
Craig Blake (The Art of Old School) on FB: https://www.facebook.com/highevolution
Hound Comics (Brimestone) website: http://www.houndcomics.com/
Mark McKenna's website: http://www.markmckennaart.com/
Don't forget to sign up for our mailing list. Never miss a Super Hero speak update/episode again!
Follow us on Twitter: https://twitter.com/SuperHeroSpeak
Like us and leave feed back on Facebook: https://www.facebook.com/Superherospeak
Podcast: Play in new window | Download (Duration: 1:06:43 — 36.0MB)