This week John and Dave sit down with comic book artist/writer O.M.G. Creator of the comic book Ant. He shares what his inspiration was for Ant and how he has succeeded in comics.  This episode is bound to inspire you to peruse your dreams. Sit back, enjoy and you're welcome!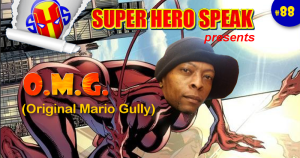 Check out O.M.G.'s website here: http://www.originalmariogully.com/
Follow O.M.G. on twitter: https://twitter.com/omg_mariogully
Like his FB page: https://www.facebook.com/pages/The-Art-of-Original-Mario-Gully/530025773790106
#stumpthegeekspeak question of last week: Name 3 instances of characters introduced in other mediums (Cartoon/TV/Film) that were so popular they crossed back into the comics as main characters.
And the winner is: Bruce from the podcast Heroes and Villains with his answer Harley Quin, Firestar and HERBIE Follow him on twitter here: https://twitter.com/hvpodcast
#stumpthegeekspeak question of the week: Who is the fastest Flash?
To answer post on our FB page or tweet @SuperHeroSpeak #stumpthegeekspeak. A winner will be announced on the next episode.c
Follow us on Twitter: https://twitter.com/SuperHeroSpeak
Like us and leave feed back on Facebook: https://www.facebook.com/Superherospeak
Click here to check out Fathead.com and support the show!
 http://www.fathead.com/find/superheroes/?cm_mmc=CJ-_-AFFILIATE-_-7404710-_-10446493&cvosrc=affiliate.cj.7404710
Podcast: Play in new window | Download (Duration: 1:03:05 — 28.9MB)