This week the guys review the year that was 2014. They share their favorite movies, tv shows, geek moments and SHS moments of 2014. They also discus what thy are looking forward to in 2015. Dave, Ben, John and Pete wish you and yours Happy Holidays and a healthy and happy 2015. So sit back and enjoy and we will see you in 2015!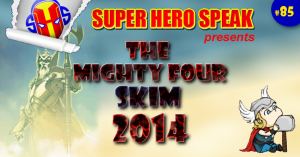 Follow us on Twitter: https://twitter.com/SuperHeroSpeak
Like us and leave feed back on Facebook: https://www.facebook.com/Superherospeak
Click here to check out Fathead.com and support the show!
 http://www.fathead.com/find/superheroes/?cm_mmc=CJ-_-AFFILIATE-_-7404710-_-10446493&cvosrc=affiliate.cj.7404710
Podcast: Play in new window | Download (Duration: 1:22:42 — 38.0MB)