So this week Dave, Ben, John and Pete sit down and discuss some of the latest casting news. Including Mark Hamill returning to the role of the Trickster, the cast of Suicide Squad and Ryan Reynolds is officially Deadpool. Also with only their 2104 wrap up show left to go, they name the Geek of the Year this week! They also officially say goodbye to Dustin, we wish him well, and he will be missed. So sit back and enjoy!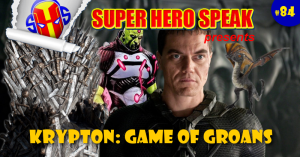 #stumpthegeekspeak question from last week: Where was George Lucas during the premier of Star Wars in 1977?
Answer: He was in Hawaii with Steven Spielberg coming up with the idea for Raiders of the Lost Ark

And the winner is Dave the Nerd! Congrats you are the geek of the YEAR! Thanks for being a loyal fan!
Follow Dave on Twitter here: https://twitter.com/Rev_Draven
#stumpthegeekspeak bonus question: What is the link between Apollo 13 and the Fantastic Four?
To answer post on our FB page or tweet @SuperHeroSpeak #stumpthegeekspeak. A winner will be announced on the next episode.
Follow us on Twitter: https://twitter.com/SuperHeroSpeak
Like us and leave feed back on Facebook: https://www.facebook.com/Superherospeak
Click here to check out Fathead.com and support the show!
 http://www.fathead.com/find/superheroes/?cm_mmc=CJ-_-AFFILIATE-_-7404710-_-10446493&cvosrc=affiliate.cj.7404710
Podcast: Play in new window | Download (Duration: 1:00:21 — 27.2MB)