All of the internet was set a buzz with the release of the teaser trailer for Star Wars: The Force Awakens. Many geeks have discussed, debated and even created their own versions. This week John and Dave talk about their relationship with the Star Wars franchise and their reaction to the teaser trailer. The trailer awakened the geek in us, enjoy!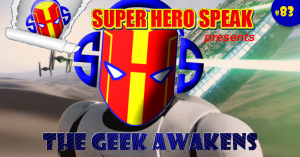 Here is the trailer for those who haven't seen it: https://www.youtube.com/watch?v=erLk59H86ww
and here is the George Lucas Special addition trailer: http://techcrunch.com/2014/11/30/the-star-wars-episode-vii-trailer-if-it-were-made-by-george-lucas/
How about the lego version? https://www.youtube.com/watch?v=qpfWrh1scZU&feature=youtu.be
Let's not for get the Abrams lens flare addition: https://www.youtube.com/watch?v=pPuUiENIuPI&feature=youtu.be
#stumpthegeekspeak question from last week: Spider-Man received the black costume (symbiote) in Secret Wars #8 Dec 1984. When did the costume first appear in regular continuity?
Answer: ASM 252 May 1984 – 8 months before he got it 😉

And the winner is Chris Blanchard! Congrats you are the geek of the week!
#stumpthegeekspeak question of the week: Where was George Lucas during the premier of Star Wars in 1977?
To answer post on our FB page or tweet @SuperHeroSpeak #stumpthegeekspeak. A winner will be announced on the next episode.
Follow us on Twitter: https://twitter.com/SuperHeroSpeak
Like us and leave feed back on Facebook: https://www.facebook.com/Superherospeak
Click here to check out Fathead.com and support the show!
 http://www.fathead.com/find/superheroes/?cm_mmc=CJ-_-AFFILIATE-_-7404710-_-10446493&cvosrc=affiliate.cj.7404710
Podcast: Play in new window | Download (Duration: 1:07:15 — 31.8MB)