Last time the guys got together they discussed all the great things Marvel had coming up for us. This week they talk about some not so great ideas. We give you The Houses of Bad Ideas; Or How I Learned to Stop Worrying and Love Batman Origins Forever. So sit back, strap in and enjoy!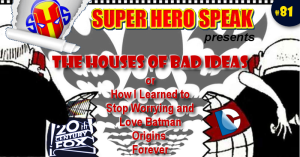 #stumpthegeekspeak question from last week: When Dead Pool (Wade Wilson) found out he had cancer, how many tumors did he have?
Answer: 34
And the winner is Paul Roof! Congrats you are the geek of the week!
#stumpthegeekspeak question of the week: What was the first feature film to feature Batman and who was the villain?
To answer post on our FB page or tweet @SuperHeroSpeak #stumpthegeekspeak. A winner will be announced on the next episode.
Follow us on Twitter: https://twitter.com/SuperHeroSpeak
Like us and leave feed back on Facebook: https://www.facebook.com/Superherospeak
Click here to check out Fathead.com and support the show!
 http://www.fathead.com/find/superheroes/?cm_mmc=CJ-_-AFFILIATE-_-7404710-_-10446493&cvosrc=affiliate.cj.7404710
Podcast: Play in new window | Download (Duration: 1:09:58 — 34.2MB)