This week the guys sit down with Alex Covington and Rica de Ocampo the stars of the hit web series We Might Be Superheroes. A show that combines action, adventure and comedy, harking back to the 60's Batman TV Series. The girls were lot of fun and this was a great conversation and we hope you enjoy.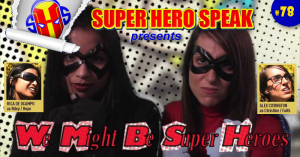 We Might Be Super Heroes official website: http://www.wemightbesuperheroes.com/
Follow Rica on Twitter here: https://twitter.com/ricaveeka
Alex's website: http://www.alexcovington.com/
#stumpthegeekspeak question of last week: Action figures imported into the US are subject to a special tax because they resemble human beings. Marvel argued against this tax and won. What was the argument they used to win the case? #trivia #comics
Answer: Because their characters are mutants.
And the winner is James Donavan! Congrats James you are the Geek of The Week!
#stumpthegeekspeak question of the week: Name all the characters who have ever possessed the power of Thor.
To answer post on our FB page or tweet @SuperHeroSpeak #stumpthegeekspeak. A winner will be announced on the next episode.
Follow us on Twitter: https://twitter.com/SuperHeroSpeak
Like us and leave feed back on Facebook: https://www.facebook.com/Superherospeak
Click here to check out Fathead.com and support the show!
 http://www.fathead.com/find/superheroes/?cm_mmc=CJ-_-AFFILIATE-_-7404710-_-10446493&cvosrc=affiliate.cj.7404710
Podcast: Play in new window | Download (Duration: 1:04:02 — 11.0MB)