This week the guys talk about The possibility of Spider-Man returning to the Marvel cinematic universe and Iron-Man joining Cap 3! Does this mean we may be getting Civil War on the big screen? Also Wonder Woman's origin in the movies will be that from the New 52 and not her original origin of being made of clay. One of the guys was really unhappy about this. Plus they discus all the latest comic news to come out of New York Comic Con 2014.  Sit back and Enjoy!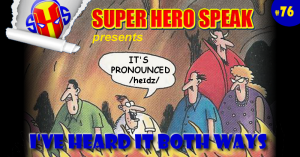 #stumpthegeekspeak question of last week: Where did the Frightful Four first appear and who was in the original line up? #trivia #comics
Answer: FF #36, with the Wizard, Paste-Pot Pete, Sandman, and Medusa.
And the winner is Scott Casper! Congrats you are the geek of the week!
#stumpthegeekspeak question of the week: What does SHAZAM! stand for?
To answer post on our FB page or tweet @SuperHeroSpeak #stumpthegeekspeak. A winner will be announced on the next episode.
Follow us on Twitter: https://twitter.com/SuperHeroSpeak
Like us and leave feed back on Facebook: https://www.facebook.com/Superherospeak
Click here to check out Fathead.com and support the show!

Podcast: Play in new window | Download (Duration: 1:02:59 — 18.2MB)