This week comic book writer and artist Joseph Schmalke returns to talk about his new project The Infernal Pact. This upcoming mini series explores the question what happens with three addicts sell their soul to the devil. Be warned this episode is a little more adult than usual as we explore the dark recesses of Joe's mind. So sit back and enjoy!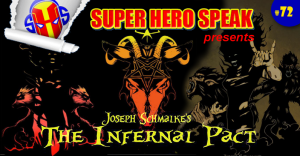 Please help our show by taking 2 minutes to fill out a short survey!
#stumpthegeekspeak question of last week: What effect does pink kyptonite on kryptonians?   #trivia #comics
Answer: I turns them gay.
And the winner is That Comic Guy! Congrats you are the geek of the week! Follow That Comic Guy on Twitter here: https://twitter.com/That_Comic_Guy
#stumpthegeekspeak question of the week: At what age did Stan Lee write The Fantastic Four #1?  #trivia #comics
To answer post on our FB page or tweet @SuperHeroSpeak #stumpthegeekspeak. A winner will be announced on the next episode.
Follow us on Twitter: https://twitter.com/SuperHeroSpeak
Like us and leave feed back on Facebook: https://www.facebook.com/Superherospeak
Podcast: Play in new window | Download (Duration: 57:16 — 16.3MB)