This week the guys sit down with Mitch Cohen, writer and director of Super Zero – Bad Ass Zombie Apocalypse Short Film. Also joining is Giselle Gilbert one of the stars of the film. Perhaps one of the best independent short films out there, Super Zero adds a new level to the Zombie movie genre. A story of a true loser turned hero, this film tells an amazing story in 15 minutes. Not only with the usual action and horror, but also with humor and heart Check this film out today you won't be disappointed. And enjoy our interview!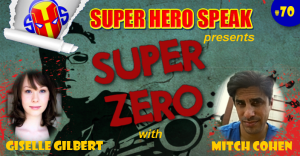 Check out the film here: https://www.youtube.com/watch?v=zxzmcfgZd_0
Follow Mitch Cohen on Twitter here: https://twitter.com/MitchCohenFilms
And Giselle Gilbert here: https://twitter.com/GiselleGilbert
Please help our show by taking 2 minutes to fill out a short survey!
#stumpthegeekspeak question of last week: In one of the strangest cross overs ever Marvel comics crossed over with a soap opera. Name the Soap and the characters involved in the cross over. #trivia #comics
Answer: Guiding Light with Iron Man and Spider-Man
And the winner is Dave the Nerd! Congrats you are the geek of the week! Follow Dave on Twitter here: https://twitter.com/Rev_Draven
#stumpthegeekspeak question of the week: The initial Stan Lee cameo for Guardians of the Galaxy was rejected by Disney. What was the cameo that was rejected? #trivia #comics
To answer post on our FB page or tweet @SuperHeroSpeak #stumpthegeekspeak. A winner will be announced on the next episode.
Follow us on Twitter: https://twitter.com/SuperHeroSpeak
Like us and leave feed back on Facebook: https://www.facebook.com/Superherospeak
Podcast: Play in new window | Download (Duration: 59:57 — 16.7MB)