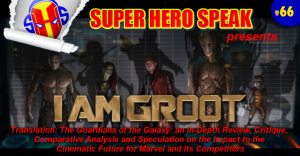 This week the guys are talking Guardians of the Galaxy. Guardians is quickly becoming know as the best Marvel movie so far, but not all the hosts share this sentiment. Though they all enjoyed the film, found out why one of them can't agree it's the best Marvel movie to date.. Together they break down the film and all the performances from Chris Pratt as Peter Quill/Star-Lord, Zoe Saldana as Gamora, Dave Bautista as Drax the Destroyer, Vin Diesel as Groot, and Bradley Cooper as Rocket. One of the best ensemble casts thus far. Also was Lee Pace as Ronan the Accuser a great villain? And did Karen Gillan's performace as Nebula surprise you as well? So site back strap in and enjoy the ride as we talk Guardians of the Galaxy. Warning: Spoilers ahead!
Please help our show by taking 2 minutes to fill out a short survey!
#stumpthegeekspeak question of last week: In the before Watchmen books it was revealed the 2 of the Minutemen had a sexual relationship. Which 2 was it?
Answer:Hooded Justice and Captain Metropolis
And the winner is Daniel Kalban! Congrats you are the geek of the week! Follow Daniel on twitter here: https://twitter.com/DanielKalban
#stumpthegeekspeak question of the week: The same accident that gave Daredevil his powers created 4 other heroes. Who were those heroes?
To answer post on our FB page or tweet @SuperHeroSpeak #stumpthegeekspeak. A winner will be announced on the next episode.
Follow us on Twitter: https://twitter.com/SuperHeroSpeak
Like us and leave feed back on Facebook: https://www.facebook.com/Superherospeak
Podcast: Play in new window | Download (Duration: 1:21:58 — 23.2MB)