This week the Dave, Ben and John sit down and talk about Wizard World Philly. The guys also discus all the recent movie news and rumors, in particular all the current DC/WB news. The Rock as Black Adam? Jason Momoa as Aquaman? and They are finally going to make a Wonder Woman movie? Hear our take on all this. Along with Dave's theory on who Nathan Fillion's character is going to be in Guardians of the Galaxy. He's hoping for a Firefly/Marvel mash up! Sit back and enjoy!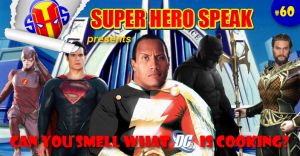 #stumpthegeekspeak question from last week: When did Captain America first throw his shield? Bonus who wrote the story? Answer: Captain America Comics #3 (May 1941) Captain America Foils the Traitor's Revenge. Story by Stan Lee.  http://en.wikipedia.org/wiki/Stan_Lee
#stumpthegeekspeak question of the week: Who in the DC universe created the drug that venom is based on?
Please support the show by shopping at our Amazon store! Get all the great products you normally get from Amazon and support our podcast at the same time. Win, win: http://astore.amazon.com/supe03b-20
Follow us on Twitter: https://twitter.com/SuperHeroSpeak
Like us and leave feed back on Facebook: https://www.facebook.com/Superherospeak
Podcast: Play in new window | Download (Duration: 46:28 — 13.2MB)