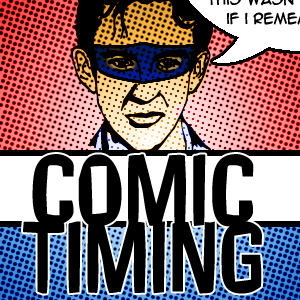 Episode 146 is now out! Gaze into the minds of Ian, Brent and Brandon Christopher as they discuss everything from Ian's decision to drop all DC books, Superior Spider-Man, X-Men: Battle of the Atom, Young Avengers, Young Justice and Beware The Batman!, Affleck as Batman, the Justice League: Flashpoint Paradox movie, The Wolverine, Kick-Ass 2 and more! And listen during the credits for Brent and Brandon's latest travel horror stories.
As always – we are sponsored by DCBS! That's right! Discount Comic Book Service! For those of you who have not used DCBS before you can save an additional 8% off your first order via the promo code: CT8. Plus, be sure to check out DCBS' new Comixology digital store!
Plus, be sure to check out Comic Timing in the Podcast Arena at this year's New York Comic Con! Ian looks forward to meeting you, and we thank New York Comic Con for their sponsorship of the podcast.
You can e-mail the show at comictiming@gmail.com and be sure to Like us on Facebook at http://www.facebook.com/ComicTiming. Thanks for listening and we'll catch you next time!
Podcast: Play in new window | Download (Duration: 2:08:36 — 72.3MB)