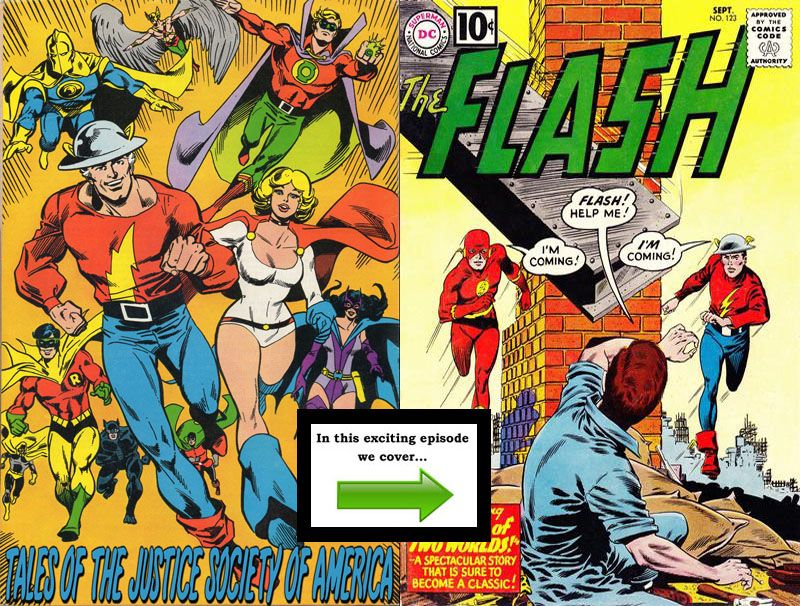 WELCOME TO A HOPEFULLY RARE SOLO EPISODE OF TALES OF THE JUSTICE SOCIETY OF AMERICA!
Scott is on hiatus but that hasn't stopped Mike from recording a brand, spanking new episode of TALES. There's no ALL-STAR SQUADRON talk this time out because Mike wants to hold off on that series until Scott gets back.
Instead Mike has gone back to the very beginning of Earth-2 with THE FLASH #123, which features the classic "Flash of Two Worlds" story. In that epic tale Barry Allen winds up on a world very much like his own but slightly different. On that world there is no Central City. Instead there is Keystone City, home of Jay Garrick the Golden Age Flash! Barry gets to meet his boyhood hero and even team up with him against the Thinker, the Fiddler and the Shade! It's a fun story that got the whole multiverse ball rolling.
After giving you the lowdown on the story Mike has some notes to go through including the shocking absence of a certain term from the story, why Jay Garrick was so darn trusting and which villain Mike changed his mind about. Mike hopes that you like the show and will stick with the program while Scott is gone.
Next week: Flash #129 and possibly #137!
______________________________________________________________________________________________
Simply The Bestest Podcast You've Ever Heard… or my name isn't William Howard Taft!!
We hope you enjoy our show and will join us each and every Friday for more Tales of the Justice Society of America!!
Feedback for this show may be sent to talesofthejsa@gmail.com
Two True Freaks! is a proud member of BOTH the Comics Podcast Network (https://www.comicspodcasts.com/) and the League of Comic Book Podcasts (http://www.comicbooknoise.com/league/)!!
You can now follow Scott on Twitter at http://twitter.com/NewFun6 and "Friend" him on Facebook!
THANK YOU for listening to Two True Freaks!!
_________________________________________________________

CLICK HERE TO GET YOUR EXCLUSIVE "TWO TRUE FREAKS!" T-SHIRT!
_________________________________________________________
Podcast: Play in new window | Download (Duration: 30:19 — 20.8MB)