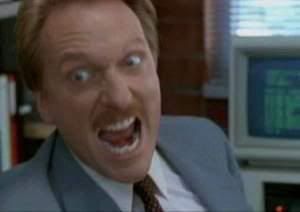 Okay so this week's episode will feature an interview if the great Jay Faerber creator and writer of Noble Causes. Jay was a great guy and I loved talking to him. But I have to tell you this episode was cursed! Maybe it was the fact that it was number 13 and im sure conducting the interview on a Friday didn't help but it was like the universe was conspiring against me.
First the telephone company crossed my phone line with another house, effectively shutting down my DSL connection. So I flew to Juan Lapaix house who is the only other person I know who has anything other than dial up. Only to half way during the interview have a power outage. Then it came back only to once again go out! Turns out two power transformers exploded knocking out electricity for the entire neighborhood!
But thanks to Jays patience and my persistence I know have the full interview on my laptop. It will probably be uploaded May 3rd guys. In the meantime listen to these bloopers that the power failure produced. Special note, I am cursing God not Mr.Faerber.
Podcast: Play in new window | Download (125.1KB)