Which man servant will reign supreme? It's Pennyworth vs Jarvis!
Podcast: Play in new window | Download (Duration: 11:45 — 11.3MB)
This week Pete, Dave and Ben (John was mysteriously absent this week) sit down and discuss Agent Carter and the Ant-Man trailer. Along with the CW wanting more DC comic based shows. Plus NASA plans on building a real life Enterprise. Beam us up! So sit back and Enjoy!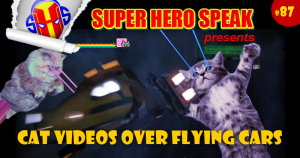 #stumpthegeekspeak question of last week: On the show The Librarians in the episode And the Fables of Doom what is the comic book related reference written on the chalkboard?
Answer: Loki's Staff. And no one got it this week, but keep trying guys!
#stumpthegeekspeak question of the week: Name 3 instances of characters introduced in other mediums (Cartoon/TV/Film) that were so popular they crossed back into the comics as main characters.
To answer post on our FB page or tweet @SuperHeroSpeak #stumpthegeekspeak. A winner will be announced on the next episode.c
Follow us on Twitter: https://twitter.com/SuperHeroSpeak
Like us and leave feed back on Facebook: https://www.facebook.com/Superherospeak
Click here to check out Fathead.com and support the show!
 http://www.fathead.com/find/superheroes/?cm_mmc=CJ-_-AFFILIATE-_-7404710-_-10446493&cvosrc=affiliate.cj.7404710
Podcast: Play in new window | Download (Duration: 1:04:20 — 31.0MB)
Disenfranchised by the modern comics industry, Paul Spataro, Scott Gardner and Michael Bailey (of "View From The Longbox" and "From Crisis To Crisis: A Superman Podcast" fame) now ply the timestream in a never-ending quest to re-discover and re-connect with that unique brand of fun and excitement that can only truly be found in good ol' fashioned randomly-selected Comic Book back issues!! Journey with them now…back…Back To The Bins!!
"…this show is too good not to listen to." — Luke Jaconetti, Being Carter Hall and El Jacone's Comic Book Bunker
Two True Freaks! is a proud member of BOTH the Comics Podcast Network (http://www.comicspodcasts.com/) and the League of Comic Book Podcasts (http://www.comicbooknoise.com/league/)!!
Feedback for the show can be sent to us at twotruefreaks@gmail.com
You can now follow Scott on Twitter at http://twitter.com/NewFun6 and "Friend" him on Facebook!
THANK YOU for listening to Two True Freaks!!
_________________________________________________________

CLICK HERE TO GET YOUR EXCLUSIVE "TWO TRUE FREAKS!" T-SHIRT!
_________________________________________________________
Podcast: Play in new window | Download (Duration: 2:26:53 — 100.9MB)