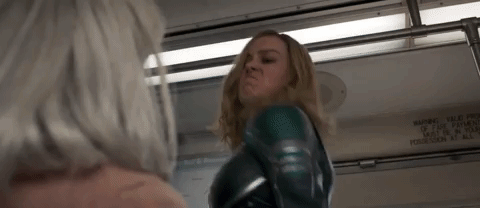 Hear Raph, Brent, Kris and Ian get a bit punchy, as it's time to review Marvel Studio's latest cinema offering: Captain Marvel! Was Brie Larson able to make her stamp on the well established MCU, or did things fall flat? Depends on who in the cast you ask; hint, Brent's the least convinced. There are plenty of nicks to pick and some genuine grievances over plot, execution, and call signs, as well as thoughts on bright spots and discussion on plot twists, but do listen in to hear the full story. Spoilers abound, as usual, so wait until after you've seen the film to check this episode out, unless you don't mind knowing everything beforehand.
You can e-mail the show at comictiming@gmail.com and be sure to Like us on Facebook at http://www.facebook.com/ComicTiming. You can follow Ian on Twitter @i_am_scifi, on Instagram at i_am_scifi or on Tumblr at heehaw-ds9.tumblr.com, and he is now a regular voice in the rotation on the Comic Geek Speak podcast; Brent is on Twitter @kossinab, and he posts regularly to YouTube on his channel, BK's Bullets; Raph can be found on Twitter @RaphDoesStuff and at the Nerd Ranting blog, and he posts articles and comic reviews regularly for ComicsVerse. Or you can add to his GoFundMe campaign, while Raph awaits disability. Kris is on Twitter @lampbane and @KrisNaudus for the professional Tweets, and Instagram at lampbane, and she writes and contributes content regularly over at Engadget.
And please make sure to head over to Kickstarter and check out Masked Prejudice – A Superhero Anthology for Social Justice, and anthology Raph contributed a story to! The campaign still has about a month to go, so do contribute to making this a reality if you can. In other Kickstarter news, Kwanza Osajyefo and Jamal Igle have lauched the follow-up six issue miniseries to the critically acclaimed BLACK, entitled WHITE. I highly recommend it.

Thanks for listening, and we'll catch you all next time!
Podcast: Play in new window | Download (Duration: 1:39:59 — 55.4MB)