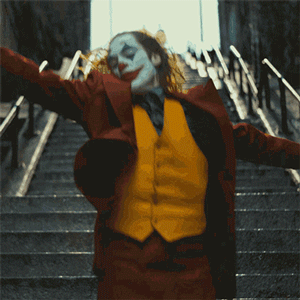 We're back, baby! For the first time in a few months, the crew gathers together to discuss the latest movie out of DC Comics, Joker. But lo, this movie is not all fun and games, and neither is this review. Join Kris, Raph, Brent and Ian as we dissect the film, and try and understand just what exactly Todd Phillips was trying to accomplish with this piece of cinema. Does it live up to the awards hype, or does this particular joke fall flat? Where does Joaquin Phoenix rank on the long list of live action and animated Jokers we've experienced over the years? Does Robert De Niro make a convincing Johnny Carson stand-in? Listen in to find out!
You can e-mail the show at comictiming@gmail.com and be sure to Like us on Facebook at http://www.facebook.com/ComicTiming. You can follow Ian on Twitter @i_am_scifi, on Instagram at i_am_scifi or on Tumblr at heehaw-ds9.tumblr.com, and he is now a regular voice in the rotation on the Comic Geek Speak podcast; Brent is on Twitter @kossinab, and he posts regularly to YouTube on his channel, BK's Bullets; Raph can be found on Twitter @RaphDoesStuff and at the Nerd Ranting blog, you can check out his old articles and comic reviews on ComicsVerse, and do check out the D&D live stream he produces weekly on Twitch, Natural Ones. Or you can add to his GoFundMe campaign, while Raph awaits disability. Kris is on Twitter @lampbane and @KrisNaudus for the professional Tweets, and Instagram at lampbane, and she writes and contributes content regularly over at Engadget.
We will be back sooner than later with more inane ramblings, with hopefully much less time in between episodes this time around. Until then, thanks for listening, and we'll catch you next time for EPISODE 200 BABY!!!
Podcast: Play in new window | Download (Duration: 2:15:50 — 71.5MB)